What's New?
June 18, 2000
Two more paragraphs were added to the main page.
The picture pages now link back to the picture index.
"Quick Links" were added to the pages to make it easier to get from one page to another page.
The Farside cartoon was moved from the "In the News" page to this update page.
June 17, 2000
A link to the Chapter.ca listing for Susan Code's book, "A Matter of Honour: And Other Tales of Early Perth", was added.
June 13, 2000
Today is the 167th Anniversary of the Last Duel.
A link to Perth's new website was added today.
June 11, 2000
The A Matter of Honour homepage has a new address (http://lastduel.tripod.com).
The Farside by Gary Larson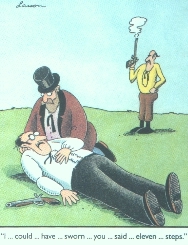 Click here for a larger version
The Farside by Gary Larson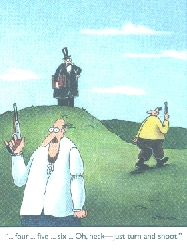 Click here for a larger version