Perth's Last Fatal Duel is about to be recreated on film.
Twenty-two year old Steve Cole, a third year film major at Sheridan College, is attempting to provide his hometown with an accurate portrayal of the historic duel as part of a school project.
The film comes as a gesture to Perth Mayor Lana March and other local notables who assisted him with his audition for entrance into Sheridan. After an interview with Mrs. March, she suggested Steve might do something for Perth in his later endeavours.
The film, called A Matter of Honour, is adapted from a story in local author Susan Code's book of the same name.
The story will be a reenactment of the Last Fatal Duel, involving the cultural and historical events that led to the duel, the duel itself and the ensuing trial.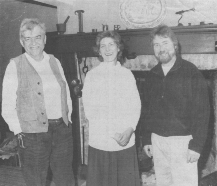 Doug McNichol, Perth Museum curator, and Kathleen O'Flaherty, museum board member, join Rick Cole of Kaleidoscope Entertainment in efforts to assist Mr. Cole's son, Steve, with his film school project of recording Perth's famous Last Fatal Duel on film. Ian Gray photo

---
Rick Cole, Steve's father, reports cooperation from the Town of Perth is sure to make the film a success. A letter from town council indicated this support.
The VHS film rights are reserved for the town and the Perth Museum.
"As this is a project which has a vast financial undertaking, the producer (Steve Cole) is attempting to raise money through various resources," Mr. Cole said.
Readers are invited to contact Perth Museum curator Doug McNichol with fund raising suggestions.
The Coles are soliciting technical and artistic talent from the community. PDCI students, under the guidance of Bev Garvin and Carolee Mason, are assisting.
Mr. Cole said the duel was chosen as an opportunity to tell a true story.
"There are so many different versions of the story. A judge in the 1950s verified the facts, and Susan Code's story is an accurate account," he explained.
"It lent itself toward film-making. There's action, a love triangle, culture and different classes."
Some students from Sheridan are expected to help with the film.
There are 14 main characters in the film. Three actresses are required. Two should appear to be aged 18 to 20, while the third should look to be in her early- to mid-30s.
Costumes for the women are to be rented from the National Arts Centre, and ladies' costumes from the 1830s are "on the small side." Two to three extras are required for various shots.
Several actors are required, with four ranging in age from 18 to 22, and another four aged 30 to 35. There will be a part for an older doctor, one middle-aged drunk character and a boy aged twelve to 14. Two to three men may be used as extras.
Screen tests are slated for Monday, May 6 in Gym 3 at PDCI from 5 to 10pm. Call backs are to be held Wednesday, May 7 at the same location. Everyone is encouraged to give it a try!
To register, send a fax to ###-#### with a brief portfolio and the preferred time and date for a screen test. This will be done on a first-come, first-served basis.
The projected date for shooting the complete film is June 22 to 30.


[Previous article | Next article]