"A Matter of Honour" is a film directed by Steven R. Cole, based on real events and the short story written by Susan Code.

In 1833 John Wilson and Robert Lyon fought the last fatal duel in Upper Canada. Some say the duel was fought for the love of Elizabeth Hughes, but there is more to the story than that.

Almost forgotten was the true culprit, a french man named Henri Lelievre, who meddled in the dispute, fanning the flames and pushing the idea of a duel. In the end, Lyon was dead, fatally wounded in the second duel attempt. John Wilson and Simon Fraser Robertson were arrested for the murder of Robert Lyon and stood trial in Brockville, Ontario two months later. Acting in their own defence, they were found not guilty by the jury.

John Wilson married Elizabeth Hughes in 1835 and they had three children together. Wilson went on to become a successful lawyer, judge and Member of Parliment. He died June 3rd, 1869, thirty-six years after the duel. Elizabeth Hughes lived until 1904, dying at the age of ninety-three.

The filming of "A Matter of Honour" took place between June 23 and July 1, 1997 in Perth, Ontario. The cast and crew were made up of volunteers from the Perth area as well as two film students from Sheridan College in Oakville, Ontario.

A number of locations in Perth were used for the filming. The Perth Manor Heritage Inn was used for interior shots involving James Boulton's law office and the Town Hall was used to represent the Court House which was undergoing renovations at the time and could not be used. The Perth Museum was used as Adam Muir's residence as well as a tavern in Bytown (Ottawa). Other locations seen in the film include the Last Duel Park, Inge Va House, Conlon Farm, the industrial park, and Stewart Park.

Two screenings of the film were shown at the premier in July 1998. The premiers were attended by many of the people that were involved in making the film possible.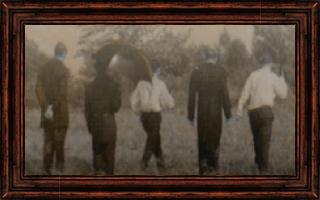 (Left - right) Henri Lelievre, Dr. Hamilton,
Robert Lyon, Simon Robertson, John Wilson.